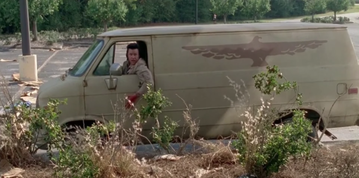 As Chris Hardwick pointed out on 'The Talking Dead', Dub-Step survived the apocalypse. Last Sunday's The Walking Dead, episode 514 "Spend", featured the single "Internet Friends" by Australian EDM duo Knife Party. The song was first released on their 2011 EP
100% No Modern Talking
.
Our characters don't come across music too often in The Walking Dead. Earlier this season Abraham managed to drive a bus that still had a tape from The Consolers in it, giving him something to hum throughout the whole episode. W
e also met a doctor at Grady Memorial who had a record player in his office, allowing him to listen to old Junior Kimbrough and Blind Willie Johnson albums.
After Sunday's episode,
Thomas did an interview with Radio.com's Brian Ives about the Knife Party use, and talked about another way source music is used on the show.
For episode 514, we got an opportunity to use source music to help rescue our heroes. In Merle's final episode in season three we worked a similar trick letting Merle's good fortune of grabbing a car with Motörhead and Ted Nugent to crash Woodbury and give Merle his final hurrah. In the case of Aiden, who is a younger generation, we get Knife Party's "Internet Friends" and the pleasure of watching Noah roll his eyes when the mixtape starts to play. The song returns when Eugene gets a 'hero' moment by both saving Tara and using Aiden's taste for dubstep to draw the walkers away to save his friends.

Part of the fun of 'The Walking Dead' is that you never know who's going to make it through the episode alive, and you never know what songs will help to tell the tale.

-Thomas Golubić
I love when people ask what kind of music is used on the show. Well... this week was dub-step. The week before was a late 60's pop song (
Read: The Bee Gees - "Spicks and Specks" in TWD 513
). With two episodes left this season, it's anyone's guess what curveballs will be thrown musically.
-Garrett McElver