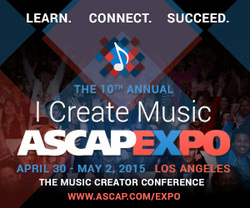 It was announced last week that SuperMusicVision team members Yvette Metoyer and Garrett McElver will be speakers at the 2015 ASCAP "I Create Music" EXPO in Hollywood, CA. They will both be a part of the One-On-One sessions where ASCAP members get a private meeting for feedback and advice on their career. Yvette and Garrett can be found in the One-One-One Sessions room on Saturday May 2nd.
Let us know if you'll be there!
Click here to read the formal announcement and for more information about the expo.