SEASON FIVE - A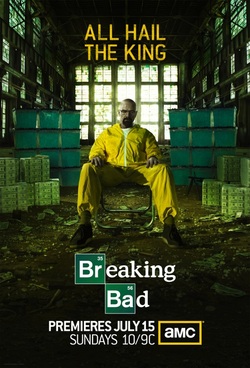 Walt and Jesse revive their meth cooking and dealing while Skyler and Walter's marriage is deteriorating. Walt's intimidation of his wife eventually leads to Skyler faking a suicide attempt to force her husband's hand and place her children at her sister's home and out of harm's way. Walt, Jesse, and Mike then work hand in hand to revive the meth trade Gus' death has left wide open to Walt and other competitors. Walter and Jesse use a business's fumigation tent on random houses as a mobile laboratory. With the DEA following Mike ever closer, Mike decides it is time to get out of the business for good. Meanwhile, Jesse continues to feel bad about the murder of a boy by Todd (Jesse Plemons) after a methylamine heist. Skyler has been storing Walt's meth earnings in a storage locker and has accumulated too much money to count and launder. Walt finally relents and agrees to quit producing meth for good.
Click HERE for full soundtrack listing of music in Breaking Bad Season Five-A.
---
FEATURED MUSIC MOMENTS:
TOMMY JAMES AND THE SHONDELLS - "CRYSTAL BLUE PERSUASION"
Episode 508 - "Gliding All Over"
Folks always ask how long we were sitting on this song before using it. I think it was on a mix tape for the very first season, but we never quite found a home for it until the Breaking Bad power trio – creator Vince Gilligan, writer Moira Walley-Becket and director Michelle MacLaren - collaborated to create this amazing sequence in one of the show's final episodes.


WHITEY - "STAY ON THE OUTSIDE"
Episode 502 - "Madrigal"
One of Walter White's bigger crimes is his emotional manipulation of Jesse. This scene was a fast paced cleaning montage in Jesse's house – where Walter White "finds" the missing ricin cigarette. We selected the punchy, feel-bad, indie-electro song "Stay On The Outside" by Whitey to underscore yet another betrayal of Jesse by Walt.

THE PEDDLERS - "ON A CLEAR DAY (YOU CAN SEE FOREVER)"
Episode 503 - "Hazard Pay"
There is no scene in Breaking Bad that had more songs tried against it than this one. At first we were convinced that Django Django's "Default" (which was just about to be released when the episode aired) was going to be the right choice. However, Vince always challenges us to keep searching for options, especially in Season Five. We then ended up with a Serge Gainsbourg Afro influenced jazz number, which we couldn't clear. It was weeks upon weeks of digging before we arrived at a song that we put on our very first mix tape for the scene, a wonderfully unique cover of "On A Clear Day You Can See Forever", which originally was featured in the 1968 Barbara Streisand movie of the same name. The cover was by the aptly named UK pop trio The Peddlers.

KNIFE PARTY - "BONFIRE"
Episode 504 - "Fifty-One"
Thanks to an un-cleared Jamaican vocal sample this song almost didn't make it into Breaking Bad. The song is a hybrid bro-step/dancehall electronic number, with a lot of energy. One of the things we loved about the song is that Walter White is being a complete jackass, and Walt Jr. is more than happy to play along with him. This blazing bro-step number seemed to capture their knuckleheaded glory. Director Ryan Johnson certainly made the most of our product placement moment.

THE MONKEES - "GOIN' DOWN"
Episode 507 - "Say My Name"
Writer and director Tom Schnauz can take credit for this one. He had the song in mind and when he presented the song for the sequence, it edited beautifully to it. Micky Dolenz's rabid fire vocals still add a smile to the sequence.

NAT KING COLE - "PICK YOURSELF UP"
Episode 508 - "Gliding All Over"
Music ideas also come from the writers or from Vince Gilligan himself. We were having a hard time figuring out what the right tone was for an incredibly violent prison execution sequence at the end of the first half of season five. Vince had found and suggested a breezy 1962 Nat King Cole song called "Pick Yourself Up", which took everyone by surprise, but ended up being the absolute right choice. I'm so happy that that is what we ended up with, and I think so were the fans. It feels completely counter-intuitive, but I can't imagine that sequence with anything else.