SEASON FOUR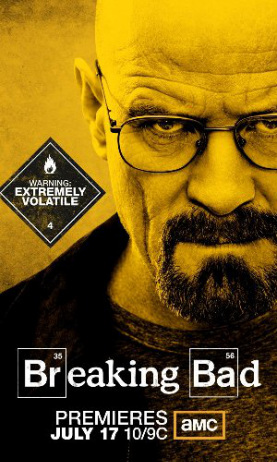 Jesse follows Walter's instructions and murders Gale. Gus decides to discipline the two by enforcing stricter policies at the lab. He also tries to break Walter and Jesse's friendship by assigning them to separate work details. While Walter works in the meth lab, Jesse escorts Mike (Jonathan Banks), one of Gus's enforcers, to retrieve payments and provide back-up. Walter and Jesse become increasingly distant from, and hostile to, each other. Meanwhile, Hank, who has been recovering from his last engagement with the cartel, finds evidence linking Gale to Gus. He believes Gus is a major drug distributor and starts looking for tangible evidence to file charges. Gus realizes Walter's close ties with Hank could jeopardize his entire operation. Gus fires Walter and threatens to kill his entire family. Jesse and Walter put their differences aside and agree to murder Gus.
Click HERE for full soundtrack listing of music in Breaking Bad Season Four.
---
FEATURED MUSIC MOMENTS:
ALEXANDER - "TRUTH"
Episode 401 - "Box Cutter"
When Alex Ebert, lead songwriter to Edward Sharpe and the Magnetic Zeroes, first introduced me to his solo album, Alexander – I knew one of the songs would find a home in Breaking Bad. As luck would have it, the closing of episode 401 following the aftermath of the murder of Gale was the perfect fit for the song truth. The lyrics in particular felt very prescient to the story we were telling.

FEVER RAY - "IF I HAD A HEART"
Episode 403 - "Open House"
Some of the best ideas come out of the music spotting sessions, where when watching the episode together, we stumble upon creative epiphanies. In the third episode of season four we had trouble stitching together three scenes. One involved Jesse at a Go-Kart track where we wanted source music playing from the sound-system. Then we follow Jesse driving home and end up at a loud raging party going on at his house. The basic sentiment of the sequence is that Jesse, devastated by guilt, would do anything to avoid being alone in his thoughts. The non-stop party at his house had gone terribly wrong, but he found peace within that chaos. In that music spotting session, we decided to use a single song to stitch together these moments and succinctly capture Jesse's headspace. The song "If I Had a Heart" by the band 'Fever Ray' captured this moment wonderfully.

"MAJOR TOM" AS PERFORMED BY DAVID COSTABILE (GALE BOETTICHER)
Episode 404 - "Bullet Points"
Our original plan for the Gale karaoke video (which by the way was under the premise that Gale, the world traveler, had recorded himself doing a karaoke number in Thailand) was to use Enya. Enya did not want to cooperate with our licensing and rejected our use of "Orinoco Flow". So we had to come up with a plan B, which to our great fortune, and David Costabile's amazingly brilliant performance as Gale, we ended up selecting Major Tom by Peter Schhilling.

ANA TIJOUX - "1977"
Episode 405 - "Shotgun"
This song actually came from episode writer Tom Schnauz's wife, Maya, who had heard the song on an NPR feature. It made perfect sense over the very funny sequence where a very bored Jesse is stuck along for a ride with Mike. We also reprise it with Walt struggling to finish the cook alone in the super lab.

BANG DATA - "BANG DATA" & THE OH SEES -"TIDAL WAVE"
Episode 410 - "Salud"
It's always a pleasure working on an episode that Michelle MacLaren directed. And anybody who watches the episode "Salud", wont' forget the scene where Gus enacts his revenge on Don Eladio. We got a chance to throw in our own contribution to the scene by bringing a Surf/Psychedelic/Garage Rock band from Orange County called The Oh Sees, along with the Latin hip-hop crew, Bang Data. I'm not sure it's realistic that Mexican gangsters would be listening to Orange County surf-rock and Latin electronic hip-hop, but we thought it served the scene nicely.

APPARAT - "GOODBYE
Episode 413 - "Face Off"
A favorite music moment of both Vince and myself is from the final episode of season four as Gus purposefully strides into the retirement home where his arch nemesis Tio resides. Like a great Greek myth, Gus marches forward ready to taste revenge, but Walt has turned the tables on him by strapping a bomb to Tio, killing them both. We found the song, "Goodbye" by a German electronic artist named Apparat. What made "Goodbye" so special was that the song has an understated dark, menacing and dangerous tone but also has a slight hint of sadness, which really captures the essence of the sequence perfectly.

THE TAALBI BROTHERS - "FREESTYLE"
Episode 413 - "Face Off"
Although frequently mistaken for Rodrigo Y Gabriela, "Freestyle" was actually written and created by two teenage (aged 14 and 16) Spanish guitar-playing prodigies from Madison, WI. Their blazing guitar skills were magic against the Vince Gilligan directed "destruction of the super-lab" scene. Which, by the way, was all done in one take.

DANGER MOUSE & DANIELE LUPPI - "BLACK (FEATURING NORAH JONES)"
Episode 413 - "Face Off"
This was a song we placed on an early mix tape for season four, and never quite found a home for it, though we knew it felt perfect for Breaking Bad. Vince found the perfect home for it during Walter White's rare moment of triumph at the end of season four. To which he declares "I Won" to Skylar.