SEASON ONE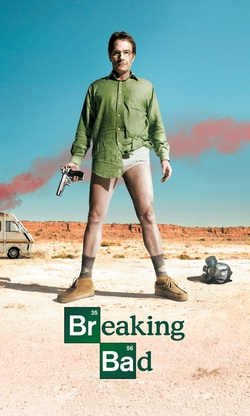 A struggling high school chemistry teacher, Walter White (Bryan Cranston), is diagnosed with inoperable, advanced lung cancer. On a ride along with his DEA agent brother-in-law Hank (Dean Norris), Walter sees a former student of his, Jesse Pinkman (Aaron Paul), fleeing the scene of a meth lab bust. He later contacts Jesse and devises a scheme to become partners in an attempt to combine their skills to manufacture and distribute methamphetamine. Walter says he wants to provide financial stability for his pregnant wife, Skyler (Anna Gunn) and disabled son, and to pay for his expensive cancer treatment. During Walter and Jesse's first days of selling Albuquerque's finest meth, they encounter a series of problems with local drug dealers.
Click HERE for full soundtrack listing of music in Breaking Bad Season One.
---
FEATURED MUSIC MOMENTS:
RODRIGO Y GABRIELA - "TAMACUN"
Episode 101 - "Pilot"
"Tamacun" came during the time we were experimenting with tone for the series, and trying to figure out whether we wanted to use score or songs for comedic moments. Rodrigo Y Gabriella have a really unique sound that draws from classic Spanish guitar but played with a heavy metal feeling, which felt like a great match to use in Breaking Bad. It proved to be a great way of introducing comedy into the show without making it slapstick, which score will often do. Almost everybody who hears Rodrigo Y Gabriella for the first time remembers the experience, and we were excited to introduce their music to a broader audience in the very first episode of the series.

MICK HARVEY - "OUT OF TIME MAN"
Episode 101 - "Pilot"
This was one of the first major music challenges in Breaking Bad, and was responsible for more than a few sleepless nights. We knew we wanted to end the pilot episode with something that was really distinctive and spoke to the predicament of Walter White. We are fans of Manu Chao and his first band Manu Negra. By happenstance Mick Harvey, a long time collaborator of Nick Cave & The Bad Seeds, had just released a solo record, and the second to last song on the album was a cover of Manu Negra's "Out Of Time Man". It felt like the perfect way to close the first chapter of our story.


FUJIYA AND MIYAGI - "UH"
Episode 105 - "Gray Matter"
Although Fujiya and Miyagi sounds like a Japanese duo, they are actually a trio of Englishmen – copping their name from Mr. Miyagi from the Karate Kid and a brand of record player. We have a lovely scene where knucklehead student Jesse Pinkman, gets to turn the tables and become the impatient teacher to his clown friend Badger. We needed a song that was playful, fun, and herky-jerky enough to help guide a ragged edit. Editor Kelley Dixon, who really excels at the art of the music montage, made a meal out of the song and really built the sequence with "Uh". The song had yet to be released when the episode aired, so for a lot of folks this was their first exposure to the song and the magic of Fujiya and Miyagi.

DARONODO - "DIDN'T I"
Episode 104 - "Cancer Man"
Darondo's "Didn't I" only made it into this episode of Breaking Bad because we couldn't afford "Sunny" by Bobby Hebb. Here is a good example where a more fitting choice makes it into the show because of financial limitations. Where "Sunny" was probably just riding clever counterpoint, "Didn't I" really taps into the sense of injustice that Walter White feels and validates this clearly insane act of sabotage. It really taps into his indignant sense of being unfairly treated by assholes, and the smug pleasures of getting a bit of revenge.

GNARLS BARKLEY - "WHO'S GONNA SAVE MY SOUL"
Episode 107 "A No-Rough-Stuff Type of Deal"
In the finale of season one we closed with an unreleased Gnarls Barkley song "Who's Gonna Save My Soul." When I first heard it, I thought: My God, the lyrics are absolutely perfect. We needed a song that would end the season on a strong note and really capture the notion that Walt and Jesse are now in way over their heads. Originally there were supposed to be nine episodes in season one, but a writer's strike cut the season short. Jesse was originally supposed to die in episode nine, and when the writer's strike happened, we were forced to end the season at seven episodes, saving the character of Jesse from an early and tragic demise. At the end of episode seven, Walt and Jesse watch gangster Tuco pummel one of his own henchmen to death. A decision was made to use a crane shot to make more out of that scene than was originally intended. While at the Sundance Film Festival, I bumped into my old friend Daniele Luppi, who had just worked with Danger Mouse and Cee-Lo Green on a forthcoming Gnarls Barkley album. Through these relationships, and with the licensing companies accommodating our very limited music budget, we were able to create something really special and unique for the closing of season one. The song breathes new life into the sequence and makes the moment as resonant and powerful as we could hope for.