SEASON THREE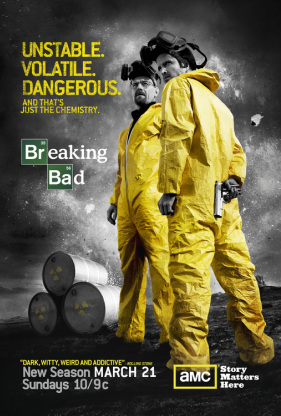 Walter wishes to reunite his family, but Skyler is still suspicious of his secret life. Walter believes he can mend the tension between them by confessing to her that he has been producing meth. Meanwhile, Gus offers to pay Walter three million dollars for three months of his service. He even offers to provide Walter with a state-of-the-art super-lab and a brilliant lab assistant, Gale (David Costabile). Jesse is continuing to produce and sell meth by himself. Hank is working with the DEA to investigate Jesse and is slowly gathering evidence to make an arrest. Jesse threatens to report Walter to the police if he is arrested. Walter proposes a solution that leads to their working together again. Jesse also gets romantically involved with a woman he meets in his rehab group and learns her kid brother was put up by Gus and his street dealers to kill Combo.
Click HERE for full soundtrack listing of music in Breaking Bad Season Three.
---
FEATURED MUSIC MOMENTS:
TIMBER TIMBRE - "MAGIC ARROW"
Episode 302 - "Caballo Sin Nombre"
There are very few records as uniquely enchanting as the self-titled album from Timber Timbre. On my first listen to the record I knew we had to find a home for it somewhere in Breaking Bad. Early on, I was convinced the song "Lay Down In The Tall Grass" would be the one, and would often play it against picture never quite finding an appropriate home. To my surprise, the bubbly pulsing energy of Timber Timbre's "Magic Arrow", placed against the efficient neutral professionalism of Mike The Cleaner and along manic Walt as he tries to break into his own home, felt like the perfect musical guide to the sequence.


QUARTETTO CETRA - "CRAPA PELADA"
Episode 313 - "Full Measure"
This one was certainly a labor of love. We knew there was very little time for the audience to get to know the character Gale before Jesse would dispatch him into the afterlife. We also knew that in the limited screen time with Gale we should take best advantage of every moment to further endear him to the audience. This would give Jesse's crime full impact, and help navigate a very dark turn in Jesse's story. David Costabile did an amazing job making Gale love-able, competent, compliant, sophisticated, detail oriented and enthusiastic. In a way, Gale was to be the perfect partner to Walt, the polar opposite of Jesse. This was one of those rare moments where we got to be alone with Gale and get a sense of the rich life that he has lead prior to our meeting him. From the art in his cramped apartment, we imagine that Gale was a world traveler and the kind of man who would try to learn the local language of everywhere he went, who would try to speak to the people in their native tongue to best absorb their culture. Vince wanted to have a scene where Gale was singing while watering his plants and I dug through my collection of music and found this wonderfully unique song on a music sampler from the Italian record label, Sugar Records, which included Italian pop songs from the 1940s. What we didn't realize in needing to translate the song for David to practice was that it was originally sung in a dialect spoken only in Milan, and that essentially no longer exists. My former colleague Joy Holland, a linguist, led us to a man who specializes in translations of Italian dialects. After much research he explained to us that this is essentially a song about a boy whose brothers won't let him eat an omelette. And David did some serious magic with it.


THE ASSOCIATION - "WINDY"
Episode 312 - "Half Measure"
I've got to give this one to Vince Gilligan. This was his idea, the scene was written with the song in mind. And the only miracle my team and myself can take credit for was convincing The Association's label and publishers to license the track. We were very honest about how Breaking Bad would be using the song, and to their great credit they all had a good sense of humor about it. We were very happy about it's use and it became another iconic music moment in Breaking Bad.

BEASTIE BOYS - "SHAMBALA"
Episode 313 - "Full Measure"
The Beastie Boys have always been known to be notoriously difficult to clear license requests, they are very particular about which projects they want to be a part of. And while we sent a request for "Shambala" early on, we never got a response. We also never found a song that was as close or as right to "Shambala". By good fortune I happened to be in New York for a film festival, and got invited to go to a party where two of the Beastie Boys happened to be. It was a quick conversation and a desperate plea, but we soon after got a clearance on the request and were thrilled to include it in the show. There is a lot of serendipity to music supervision and sometimes the stars line in your favor.


LOS ZAFIROS - "HE VENIDO"
Episode 305 - "Sunset"
Another favorite montage from Season 3 is the crushing of the beloved RV. This plays just after a very tense sequence where Hank almost catches Walt and Jesse and corners them at a junkyard in their RV. Up to this point, it is the closest that Walt has come to being caught by Hank. Disposing of the evidence of their criminal activity, the RV has to be crushed - essentially killing off a major character. This wonderful ballad from Cuban harmony vocal group from the mid 1960s called Los Zafiros. To my ears, their song "He Venido" really captures the sadness and romance in the scene and also the sense that they're saying goodbye to an old friend.