SEASON TWO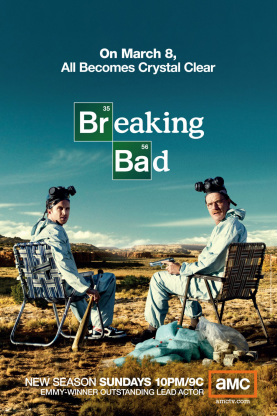 Walter continues to find himself facing insurmountable medical bills from his cancer treatment. Despite having had several bad experiences while producing meth with Jesse, Walter agrees to continue. The two begin producing meth but run into multiple problems. Jesse's friend Badger (Matt L. Jones) is arrested while selling meth in a sting operation, another of Jesse's friends is killed by a rival gang for selling meth on their territory. Walter hires a lawyer, Saul Goodman (Bob Odenkirk), to help, and he suggests they find a new distribution model - introducing Walt and Jesse to Gus Fring. Throughout this, Jesse has been building a relationship with his neighbor and landlord, Jane (Krysten Ritter). Jane is revealed to be recovering from addiction. Skyler confronts Walter about his frequent absences and excuses and begins to piece together his secret life and demands that they separate.
Click HERE for full soundtrack listing of music in Breaking Bad Season Two.
---
FEATURED MUSIC MOMENTS:
TV ON THE RADIO - "DLZ"
Episode 210 "Over"
In episode ten of Season Two, we used TV On The Radio's "DLZ" to close out the episode with Walter White telling the local competition to "stay out of my territory." It's a key moment in Walt's story in that he decides to switch from his basic instincts as a teacher - lecturing a dumbfounded street kid about his meth purchasing strategy - to being a drug-dealer - willing to threaten his competition. I found the song around 3am after a very long night of digging and thought it was so perfect that I didn't want to pitch anything else for the scene. Finding a way to afford the song was a whole other battle. By some small miracle, we were able to steal money from another episode, got an okay on some overages, and negotiated best as we could with TV On The Radio's publishing company. In the end, we were able to keep the song and it remains one of my favorite music moments in Breaking Bad.

LOS CUATES DE SINALOA - "NEGRO Y AZUL: THE BALLAD OF HEISENBERG"
Episode 207 - "Negro Y Azul"
In episode 207, we open with a Spanish-language music video in the style of a "narcocorrido". Vince Gilligan asked about a narcocorrido video the writers room had been checking out, and suggested we create one for 'Heisenberg'. I was familiar with the genre, but not with the crazy videos (I suggest a YouTube search for those inclined). The videos appear to be home-made and rather crudely edited, complete with visual effects straight out of the mid-1980's. The music typically features an accordion and tuba, among other instrumentation and sounds quite similar to German "oompah-oompah" music. The episode was about 'building a rep' in the drug game, and Vince wanted to use a custom-created 'Ballad of Heisenberg' narcocorrido video as a truly bizarre teaser to open up the episode.

Instead of trying to create an even cheaper 'knockoff' ourselves, we decided to recruit an established narcocorrido songwriter, and through Robert Isaac of Telemundo we reached out to godfather of the genre Pepe Garza. Pepe took Vince Gilligan's lyrics, helping us adapt the song to the narcocorrido format (no verse chorus verse format, and changing the story to reflect that the Cartel always wins) and delivered an amazing song. Through Nir Seroussi of Sony Music Latin, we found Los Cuates de Sinaloa, a narcocorrido band based out of Phoenix, Arizona. We recorded the song in an understated suburban house in Burbank, and then flew out to Albuquerque to shoot the music video with the band, which was really fun. It ended up being one of the most memorable "wtf?" moments in Breaking Bad.

THE BE GOOD TANYANS - "WAITING AROUND TO DIE"
Episode 203 - "Bit By A Dead Bee"
This is perhaps one of my personal favorite music moments in the series. I always thought of this scene as a "Ghost of Christmas Past" type of moment, where Walt gains insight how his web of lies was impacting his family, and the sadness that would remain if he were to simply pass on. I love the beautiful harmonies of The Be Good Tanyas in this extraordinary cover of the heartbreaking song by the late, great Townes Van Zandt.


THE BLACK SEEDS - "ONE BY ONE"
Episode 209 - "4 Days Out"
This is a great example of where you really reap the rewards of having chosen a song early. Executive Producer Michelle MacLaren directed this episode and she knew very early on that she wanted to have a unique Meth Cook montage. She wanted to have a song available on set for playback, so she and the cast and the crew would all be in character from the start. When I pitched this song from Bret McKenzie's (of New Zealand group Flight of the Conchords) side project The Black Seeds, it grabbed everyone and felt like the right choice from the start. It feels very Breaking Bad to me, not really in any particular genre, but kind of dancing between styles. Michelle prepared the scenes listening to the song, gave it to the actors for inspirations and played this song when shooting the sequence. The scene was edited with this song from the very start. It feels just about perfect.


THE PLATTERS - "ENCHANTED"
Episode 211 - "Mandala"
The variety of choices that we gave Vince on this particular sequence was terrifying. We used everything from symphonic classical music to trippy electronica, from classic R&B to modern blues-rock. We ended up with a rather sweet song by The Platters, not quite rock n' roll and not quite doo-wop, that captures the feeling of first love that many addicts feel when they are first introduced to heroin. And somehow strangely that felt like the right choice.