BLAZING SAMURAI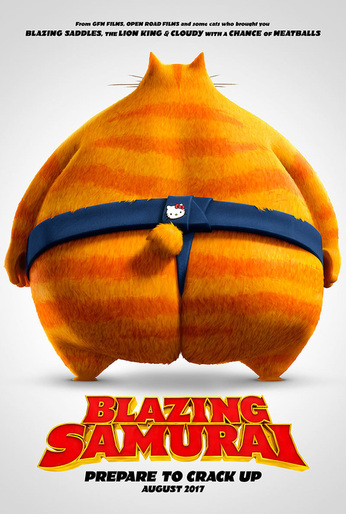 "Blazing Samurai" is about a scrappy dreamer of a dog named Hank (voiced by Cera) who longs to become a great warrior and fights to save the town of Kakamucho. The project is equally inspired by and an homage to Mel Brooks' classic comedy Blazing Saddles. In fact, Brooks is one of those in the voice cast (he'll play the misguided but benevolent leader, Shogun).

Starring Samuel L. Jackson, Michael Cera, Ricky Gervais, Mel Brooks, George Takei, Gabriel Iglesias, Aasif Mandvi, Djimon Hounsou, Michelle Yeoh, Sandra Tsing Loh, Mel B. and Heavenly Joy Jerkins.

Jackson will portray Jimbo, a cat who once was a great warrior who now lives life hitting the cat-nip a bit too hard. Despite his addled state, he reluctantly takes lovable mutt Hank under his wing and teaches him the cunning, courageous and warrior-like ways of the samurai. Forging an unusual friendship between a cat and a dog, the two set off on a wild and hilarious journey to save the town of Kakamucho whilst at the same time learning what it means to be a true, great samurai.

Gervais will voice the villainous Ika Chu, the sneaky bad cat with a grand plan to rid Kakamucho of its feline inhabitants. Takei will lend his inimitable baritone voice to Ohga, the villain's enforcer. Hounsou (Guardians Of The Galaxy, How To Train Your Dragon) voices gentle giant Sumo. Mandvi (Spider-Man 2) and Iglesias (The Nut Job) will star as Ichiro and Chuck, Kakamucho's Laurel and Hardy towncats, with Loh as Little Mama, Kakamucho's cranky grande dame.

"Blazing Samurai" is directed by Chris Bailey (Alvin And The Chipmunks) and Mark Koetsier (Kung Fu Panda, How To Train Your Dragon) from a screenplay written by Ed Stone and Nate Hopper and will be produced by Rob Minkoff (The Lion King, Stuart Little) along with Yair Landau who is the president and founder of Mass Animation. Additional producers are Susan Purccell (Mother Up!). Brooks will also exec produce as will Reginald Hudlin and Pietro Ventani.

The family film is coming to the screen, courtesy of Mass Animation, Huayi Brothers Media Corporation, Flying Tigers Entertainment, and GFM Films which is handling international sales.



We are currently on hiatus for the film, TBA return date.

---