SEASON ONE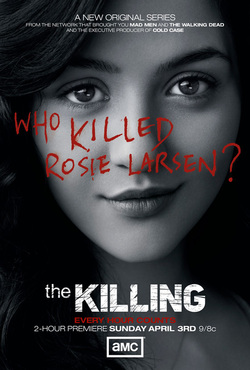 Set in Seattle, Washington, the series follows the investigation into the murder of local teenager Rosie Larsen, with each episode covering approximately 24 hours. The first season covers the first two weeks of the investigation and has three main storylines: the police investigation of Rosie's murder, the attempts of her family to deal with their grief, and the fluctuating electoral fortunes of a political campaign that becomes embroiled in the case.
Click HERE for full soundtrack listing of music in The Killing Season One.
---
FEATURED MUSIC MOMENTS:
WE FELL TO EARTH - "THE KILLING MAIN TITLE"
Used For Entire Series
Showrunner Veena Sud tasked me with finding exciting options of artists who could create a main title that would be separate from the score by Frans Bak. After giving her a small list of options and requesting demos from those artists, Veena selected the demo by the UK based duo We Fell To Earth. Thanks Skype technology and many late hours of collaboration with Wendy Rae Fowler and Richard File, we were able to build the main title into something special and unique.

NEKO CASE - "HOLD ON, HOLD ON"
Episode: 106 - "What You Have Left"

This was a song that Aunt Terry introduced to Rosie and was thematically associated with Rosie's absence. It's a song suggested by the writer of the episode, Nic Pizzolatto, and showrunner Veena Sud, and the montage was built with the song in mind from the start.