SEASON ONE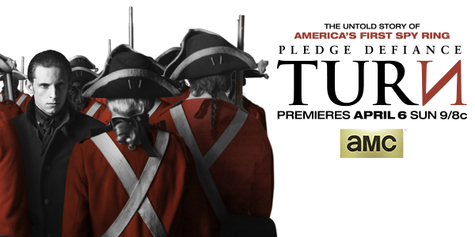 In 1776 and 1777, a Setauket, New York farmer and his childhood friends form an unlikely group of spies, called the Culper Ring, who eventually help turn the tide during the American Revolutionary War. The series begins in October 1776, shortly after British victories recaptured Long Island, Staten Island, and New York City for the Crown and left General George Washington's army in desperate straits.
According to the first episode's introductory card titles: "Autumn 1776. Insurgents have declared war against the Crown. Following a successful naval landing, His Majesty's Army has forced Washington's rebels into the wilderness. New York City serves as military base of operations for the British. The Loyalists of nearby Long Island keep vigilant watch out for sympathizers, and spies."
TURN is based on Alexander Rose's book
Washington's Spies: The Story of America's First Spy Ring
Click HERE for a complete list of music used in Season One of TURN.
---
TRAILER
FEATURED MUSIC MOMENTS:
JAKE BUGG - "Turpin Hero"
Featured in EP 101 - "Pilot"
SARAH BLASKO - "Spanish Ladies"
Featured in EP 103 - "Of Cabbages and Kings"
The choice of "Spanish Ladies" came from the script. The rapscallion patriot character Caleb Brewster makes his getaway in a row boat and while dodging shots fired from British soldiers on land, he mocks them by singing the British sea shanty "Spanish Ladies." The scene closes with a furtive glance between our protagonist Abe Woodhull and his childhood love Anna Strong, both married to others. Showrunner Craig Silverstein requested we support the wistful moment between the star-crossed lovers in addition to the playfulness of Caleb's escape.

We knew that Australian singer Sarah Blasko would bring an emotional poignancy to an otherwise rollicking tune. Her brilliant interpretation effectively supports that wistful look between two of our leads. In addition to Sarah's very talented band, album producer Tony Berg brought on hurry gurdy player Curtis Berak for an elegant touch of Revolutionary War period instrumentation. We are very excited to bring this traditional song into a new light.

LAURA MARLING and JONATHAN WILSON - "Bonny Portmore"
Featured in EP 105 - "Epiphany"
"Bonny Portmore" may be my personal favorite music moment in the first season of 'TURN'. The song arrives at a key point in the series; our characters have made choices that will define their fates and the wheels of history are moving toward inevitable conflict. I think Laura Marling has one of the most beautiful voices in contemporary music. Although she is very young in chronological years, she is very clearly an old soul, and her performance of this wistful, sad Irish ballad about the felling of trees to make war ships captures this key moment in the telling of our Revolutionary War story. Jonathan Wilson's thoughtful and restrained approach to the song, featuring only an oxygen organ against Laura's stunning vocals, is pitch perfect.

When we first started working on 'TURN', one of the first calls we made was to musician and producer Jonathan Wilson. He was very intrigued with our exploration of 18th century songs and mentioned wanting to work with Laura Marling. Soon after, we heard that Laura was moving to Los Angeles from England, and as it turns out to our neighborhood of Silver Lake/Echo Park. We met and discussed the 'TURN' project and a few weeks later "Bonny Portmore" was the first fruit of their creative collaboration. We delivered the song to the 'TURN' editing team who built an entire sequence around it. We think it's pretty stunning.

GARY LIGHTBODY and JOHNNY MCDAID - "Jock O'Hazeldean"
Featured in EP 108 - "Challenge"
Throughout the first season of TURN we have been teasing the audience with the unrequited love between Abe Woodhull and Anna Strong. This is the scene where their simmering attraction is brought to a boil. Our showrunner Craig Silverstein wanted to retain a note of melancholy in their union, as it's a fleeting one. Both Abe and Anna are married to others despite a lifelong love. The song "Jock O'Hazeldean" tells the tale of a lord convincing a weeping young lady that his son is a worthy suitor. The woman's heart, however, belongs to another. Despite the lord's offers of riches and gold, she follows her heart and flees to be with her true love, Jock O'Hazeldean.

It was producer Tony Berg's idea to reach out to Gary Lightbody and Johnny McDaid of Snow Patrol to interpret "Jock O'Hazeldean" for TURN. It turned out to be a perfect choice. Gary's soft, heartfelt delivery and Johnny's plaintive guitar balance beautifully against each other, and with Tony's tasteful guidance the song is poignant, simple, and sincere.