SEASON ONE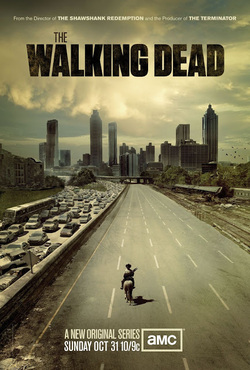 AMC's "The Walking Dead" is an epic survival adventure series from Frank Darabont, director of The Shawshank Redemption, and Gale Anne Hurd, producer of The Terminator and Aliens, based on the graphic novel series by Robert Kirkman.
The series begins with sheriff's deputy Rick Grimes' being wounded in a shootout with armed criminals. He awakens weeks later from a coma in an abandoned and badly damaged hospital. Upon leaving, Rick discovers a post-apocalyptic world overrun with zombies. Rick also discovers his wife and son are missing, and he encounters two survivors who explain the situation to him. Acting on a rumor the two had heard, he arms himself and begins a perilous journey to Atlanta, Georgia, where the CDC is said to have set up a quarantined safe-zone in the city. Upon reaching Atlanta, he soon discovers the city has instead been overrun by walkers.
Click HERE for full soundtrack listing of music in The Walking Dead Season One
---
COMIC-CON TRAILER (2010)
Featured Trailer Music:
PARIS MOTEL - "MR. SPLITFOOT"
SAM ROWLAND - "RICK AWAKES"
PAUL HASLINGER - "SOME KIND OF VIRTUE"
THE WALKER BROTHERS - "THE SUN AIN'T GONNA SHINE"
FEATURED MUSIC MOMENTS:
WANG CHUNG - "SPACE JUNK"
Episode 101 - "Days Gone Bye"
Here's a good example of where a music idea comes from a director - in this case writer, director and executive producer Frank Darabont - that I immediately thought was a terrible idea, but I was wrong. When Frank first told me he has this song - a 1997 recording from 1980s synth-pop band Wang Chung, tagged onto a Greatest Hits album as an unlikely single - it seemed like a crazy misguided choice. I desperately offered to throw some additional music ideas at the scene, but Frank was resolute: this was the song. Sure enough, once we had all the CGI finished and the full episode assembled, and we're there with Rick inside the tank, and hear Glen speaking to him from over a walkie talkie, and the song kicks in, as the camera pulls back to show the tank surrounded by an endless sea of walkers, "Space Junk" had just the right kind of 'wtf' punch the closing of the episode needed. It was the perfect breather after a very rough journey. Frank was right all along.

BEETHOVEN - "SONATA FOR PIANO NO 8 IN C MINOR, OP 13 PATHETIQUE"
Episode 105 - "Wild Fire"

In one of those "WTF" sequences in The Walking Dead, we suddenly find ourselves inside a laboratory in the Center of Disease Control (CDC) being introduced to Dr. Edwin Jenner as he's working away. This morning NPR staple turned out to be the right sound for this sequence.


BOB DYLAN - "TOMORROW IS A LONG TIME"
Episode 106 - "TS-19"
Previously only known to the folks who collected Bob Dylan's Greatest Hits - Volume 2, this relatively obscure Dylan song helped bring our first season to an emotional and resonant close. As bob's distinctive voice and guitar echoes in the distance, we watch our heroes leave the destroyed CDC lab into an uncertain future.