SEASON THREE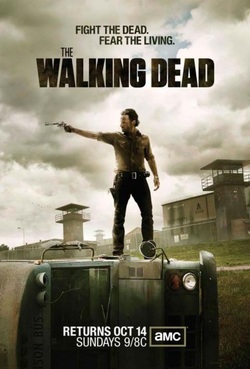 The third season begins several months after the group escaped the farm, and Lori is in the final days of her pregnancy. The group stumbles upon an overrun prison and sets about converting it into their new home. They soon find several surviving inmates who have been trapped in the cafeteria. But while invading zombies are an ever-present danger, they must also battle the living, not only in the form of abandoned prisoners, but also the sadistic "Governor" and his followers.
Michonne and Andrea have been taken to the town of Woodbury, a safe haven from the walkers. There they meet The Governor
(David Morrissey)
, the town's leader, and learn that Merle Dixon — Daryl's older brother — has taken refuge there as well. Michonne is immedia
tely suspicious of The Governor and the settlement and decides to leave, but Andrea refuses to go with her.
Click HERE for full soundtrack listing of music in The Walking Dead Season Three
---
COMIC-CON TRAILER (2012)
Featured Trailer Music:
EMILY KINNEY - "THE PARTING GLASS"
THE WALIN' JENNYS - "THE PARTING GLASS"
FULL TILT - "RETRIBUTION"
KARI KIMMEL - "BLACK"
FEATURED MUSIC MOMENTS:
JAMIE N COMMONS - "LEAD ME HOME"
Episode 312 - "Clear"
"Lead Me Home" led to another huge music moment in the series. This episode, written by future show runner Scott Gimple, took Rick, Michonne and Carl back to their hometown on a supply run. This is where they discover what's left of Morgan's sanity, and starkly establishing what little humanity they have left. With Season 3 we found an opportunity to create original songs for the series to be released on a companion soundtrack album, and this is one of the first and most successful collaborations. In this case with talented young, UK blues-rock artist Jamie N Commons, who had only released a UK only EP at this point. His sound was so distinctive an compelling that when we reached out to his manager to work with him Jamie took it upon himself to binge watch the series and create this wonderful song which found a perfect home at the end of this episode.

EMILY KINNEY - "THE PARTING GLASS"
Episode 301 - "Seed"
The challenge here was to find a song that Beth would sing, that would capture the homesickness that the group felt in their first night. That would show the relative peace just outside the prison walls. For both creative and economic reasons, we selected a public domain Irish ballad. The ballad was originally sung by Irish ex-patriots, often in America, when thinking of having left the land that they love in hopes of finding a new home.

FINK - "WARM SHADOW (DACTYL REMIX)"
Episode 313 - "Arrow On The Doorpost"

Another UK folk/blues influenced artist, Fink, aka Fin Greenall, felt really right for the ramping up the war parties sequence after Rick and The Governor meet for the first time. We commissioned a remix of the song "Warm Shadow" from label mate Dactyl, to extend Fink's wonderful song to custom fit the scene and the story we were telling. Where the war drums were beginning to pound, and where we knew things would end ugly with Rick and The Governor's confrontation to come.

JO STAFFORD - "IT COULD HAPPEN TO YOU"
Episode 307 - "When The Dead Come Knocking"
For this scene we needed a World War II era pop song that would be used by Milton to draw out memories from Mr. Coleman, to help capture the nostalgia that he would feel on exiting the world in Milton's experiment to see if walkers retained some sense of humanity as they turned. We originally had planned to use the song "Vera Lynn" which is a World War II classic, but budgetary constraints forced us to appraise our options, which lead us to the wonderful Jo Stafford tune.

VOXHAUL BROADCAST - "YOU ARE THE WILDERNESS"
Episode 314 - "Prey"
One of the more exciting bands coming out of Los Angeles' indie rock scene was Voxhaul Broadcast, and when we got a chance to hear the song they created for the Twilight soundtrack (that Twilight rejected) we scooped it up and put it on our soundtrack. When revealing Andrea captured and bound in The Governor's torture chamber we needed a dark rocking song to take us out. This one did the trick nicely.