SEASON TWO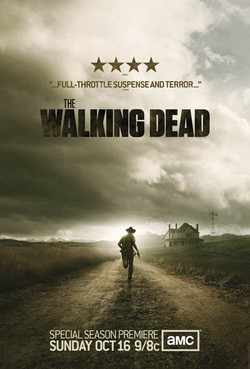 Based on Robert Kirkman's hugely successful and popular comic book series, AMC's original series "The Walking Dead" tells the story of police officer Rick Grimes (Andrew Lincoln) and a small group of others as they struggle to stay alive when the world is ravaged by a zombie apocalypse.
The second season begins with Rick and his group of survivors leaving Atlanta. They decide Fort Benning will be their next destination. Along the way, they encounter a traffic jam of abandoned vehicles on I-85. The group loots several vehicles and, as a large horde of walkers approaches, are forced to hide under the vehicles. Carol's daughter, Sophia, chased away from the camp by two of the remaining walkers, runs off into the woods. Carl is accidentally shot during a search for the missing girl. Otis, a hunter who shot Carl, leads Rick and Shane to a large, isolated farm owned by a veterinarian named Hershel Greene. The remainder of Rick's group moves to the farm while Carl recovers. The group tries to co-exist alongside Hershel's family, but dangerous secrets and disagreements over leadership cause tensions to rise.
Click HERE for full soundtrack listing of music in The Walking Dead Season Two
---
COMIC-CON TRAILER (2011)
Featured Trailer Music:
BOOMERANG - "DARKNESS"
DJ SHADOW - "OUTSIDER INTRO"
WYE OAK - "CIVILIAN"
FEATURED MUSIC MOMENTS:
WYE OAK - "CIVILIAN"
Episode 210 - "18 Miles Out"
Wye Oak's "Civilian" captures the spirit and tone of The Walking Dead, perhaps more so than any other song. Utilizing a The Pixies style "quiet-loud-quiet-loud" structure, with a heavy folk sound, this Baltimore duo helped establish the tone of Season Two. The song was featured prominently in the comic con trailer for this season, and when we tried it against this scene it brought a very important episode to a powerful closer.

CLUTCH - "THE REGULATOR"
Episode 208 - "Nebraska"
This song was an unlikely choice for The Walking Dead, if there ever was one. An anomaly in The Clutch catalog, "The Regulator" closed another key moment in an episode of the series. One song supports the ending of Rick and Hershel's escapade with the two strangers at a bar, as well as the grizzly clean-up operation on the farm.

SNIFF 'N' THE TEARS - "DRIVER'S SEAT"
Episode 210 - "18 Miles Out"

A long standing favorite for myself and then show runner, Glen Mazzara. "Driver's Seat", by the UK one-hit-wonder group Sniff 'N' The Tears, likely brings up a nostalgic smile for anybody who grew up during the late 70's.