GRACE AND FRANKIE (NETFLIX)

The series follows Grace (Jane Fonda), a retired cosmetics mogul, and Frankie (Lily Tomlin), a hippie art teacher, whose husbands, Robert and Sol, are successful divorce lawyers in San Diego. Grace and Frankie's lives are turned upside down when Robert (Martin Sheen) and Sol (Sam Waterston) announce that they are in love with each other and are leaving their wives. Now, the women, who have never particularly liked each other, are forced to live together and support each other as they navigate the next chapter of their lives.

---
Music Supervisors: Thomas Golubić, Michelle Johnson
Music Coordinators: Garrett McElver, Yvette Metoyer
Producers: Marta Kauffman, Robbie Tollin, Hannah K.S., Howard J. Morris, Jane Fonda, Lily Tomlin, David Ellison, Jeff Freilich, John Hoffman
Composers: Sam Kaufman-Skloff, Michael Skloff
Music Editor: Bruno Roussel
Studio: Skydance Media
Network: Netflix

Season One* - Airdate: May 8th, 2015 (All Episodes)
Season Two - Airdate: May 6th, 2016 (All Episodes)
Season Three - Airdates TBA 2017

*SuperMusicVision began working on Grace and Frankie with Season Two.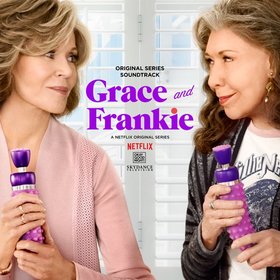 The official soundtrack for Grace and Frankie is available to purchase! Featuring songs from season two and three.
Order a copy here:
Amazon
|
iTunes
---
COMPLETE LIST OF SONGS IN GRACE AND FRANKIE
SEASON TWO
EP 201 - "THE WISH"

The Mamas and Papas, "Dream A Little Dream Of Me" (

iTunes

)

EP 202 - "THE VITAMIX"

APM Music, "J Pop Drop"

APM Music, "Riding The Range"

David Byrne & Brian Eno, "Life Is Long" (

iTunes

)

EP 203 - "THE NEGOTIATION"

Firstcom Music, "Saturday Morning Cartoons"

APM Music, "Steel Band 1"

Ike and The Vines, "So It Be"

"I've Never Been In Love Before" (sung by Robert, Sol, and guests in hospital)

Fred Astaire & Ginger Rogers, "The Yam" (

iTunes

)

EP 204 - "THE ROAD TRIP"

Elijah Honey, "Where You Are Is Where I'm Going To Be"

Zander Michigan, "You Remind Me Of A Girl That I Once Knew" (

iTunes

)

Elemotho, "Neo" (

iTunes

)

Meg Mac, "Roll Up Your Sleeves" (

iTunes

)

EP 205 - "THE TEST"

Wailing Souls, "Firehouse Rock" (

iTunes

)

Firstcom Music, "Piano Concerto No. 1 in C Major - Allegro con Brio DG

Toots and the Maytails, "Pressure Drop" (

iTunes

)

EP 206 - "THE CHICKEN"

Alash Ensemble (Featuring Lily Tomlin), "Tuvan Improv"
Joshua Caldwell, "Moving On"
Davide Ravasio, "Gustoso"
Firstcom Music, "Hippie Girl"
Stiletto Strippers, "From Now On"
Alash Ensemble, "Tuvan Improv End Title"

EP 207 - "THE BOAR"

EP 208 - "THE ANCHOR"

EP 209 - "THE GOODBYES"

EP 210 - "THE LOOPHOLE"

EP 211 - "THE BENDER"

EP 212 - "THE PARTY"

EP 213 - "THE COUP"
SEASON THREE
EP 301 - "THE ART SHOW"

EP 302 - "THE INCUBATOR"

EP 303 - "THE FOCUS GROUP"

EP 304 - "THE BURGLARY"

EP 305 - "THE GUN"

EP 306 - "THE POT"

Dina Duval, "Tell Me"

Extreme Music, "Placid Playground"

Teddy Pendergrass, "Love T.K.O." (

iTunes

)

​Mavis Staples, "If It's A Light" (

iTunes

)

EP 307 - "THE FLOOR"

Crucial Music "Danger In Front"
Rossini, "William Tell Overture"
Leon Bridges, "Smooth Sailin'" (iTunes)


EP 308 - "THE ALERT"

Benoit Mansion, "L'amour du Matin"
Soul Swingers, "Brighter Tomorrow"

EP 309 - "THE APOLOGY"

Manuel Diogo, "Moninga Yaka Na Yesu"

Kenny Werner, "Lay Back 'N Chillax"

5 Alarm Music, "Can't Let You Go"

Glenna, "Runaway Heart"

​Langhorne Slim, "Changes" (

iTunes

)

EP 310 - "THE LABELS"

Last Days of April, "Something For Everyone"

Andreya Triana, "Heart In My Hands" (

iTunes

)

EP 311 - "THE OTHER VIBRATOR"

Bishop Briggs, "River" (

iTunes

)

EP 312 - "THE MUSICAL"

The Souls, "Listen Now"

​Bahamas, "Lost In The Light" (

iTunes

)

EP 313 - "THE SIGN"

Fairport Convention, "Who Knows Where The Time Goes" (

iTunes

)
SEASON FOUR
Grace and Frankie will return for a fourth season! Release date TBA 2018