LOVE (NETFLIX)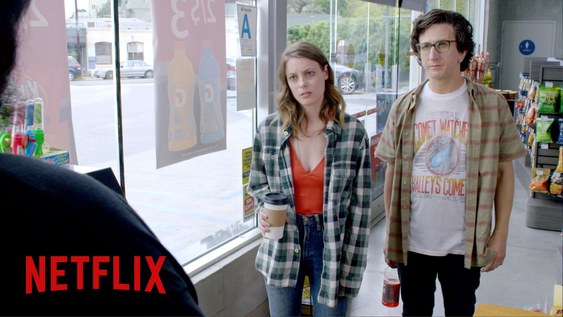 The show is created by Judd Apatow, Paul Rust, and Lesley Arfin and stars Gillian Jacobs and Rust. The series is a "down-to-earth look at dating," exploring male and female perspectives on romantic relationships through the characters Mickey and Gus, played by Jacobs and Rust respectively.

Season one is currently available on Netflix.
---
Music Supervisors: Thomas Golubić, Michelle Johnson
Music Coordinators: Garrett McElver, Yvette Metoyer
Producers: Judd Apatow, Paul Rust, Lesley Arfin, Dean Holland, Dave King, Michael Lewen, Michael Maccarone
Composer: Lyle Workman
Music Editor: Jason Treggoe Newman, JTN Music
Studio: Legendary
Network: Netflix

Season One* - Airdate: February 19th, 2016 (All Episodes)
Season Two - Airdate March 10th, 2017 (All Episodes)

*SuperMusicVision began working on Love with season two

---
COMPLETE LIST OF SONGS IN LOVE
SEASON TWO
EP 201 - "ON LOCKDOWN"

Calvin Harris, "My Way"
Chance The Rapper, "Smoke Break"
Fleetwood Mac, "What Makes You Think You're The One?"

EP 202 - "FRIENDS NIGHT OUT"

Thao with the Get Down Stay Down, "Cool Yourself"
Beck, "Wow"
The Go, "Tease My Ears"
Givers, "Up, Up, Up"
VHS Collection, "Lean"
Little Green Cars, "Clair De Lune"
Night Riots, "Loyal Blood"
The Avett Brothers, "No Hard Feelings"

EP 203 - "WHILE YOU WERE SLEEPING"

Henry Hall, "Comfort Zone"
Ray Charles, "St. Pete Florida"

EP 204 - "SHROOMS"

Richard and Linda Thompson, "I Want To See The Bright Lights Tonight"
Yeye, "Set The Dogs"
Vetiver, "Current Carry"
Flume, "Holdin' On (Feat. Freddie Gibbs)"
Wolf Parade, "Fine Young Cannibals"
Lucy Schwartz, "La Luna"
Tom Waits, "Starving In The Belly Of A Whale"
Clem Snide, "Beautiful"

EP 205 - "A DAY"

Compny, "Lovers"
Brad Hatfield Trio, "Swinging Laura"
Sonny Clark, "Junka (alt)"
Firstcom Music, "One Way Ticket"
Firstcom Music, "Hollywood Romance"
APM Music, "Tell Me It's True"
Yeah Yeah Yeahs, "Hysteric (Acoustic)"
Fleetwood Mac, "Need Your Love So Bad"
Loudon Wainwright III, "Donations"

EP 206 - "FORCED HIATUS"

Tal Wilkenfeld, "Corner Painter"
Katie Carlene, "Follow Me"
Doris Duke, "Business Deal"
Kari Kimmel, "Sinkin' Or Swimin'"
Zach Jones, "Hard To Get"
Last Days of April, "Someone For Everyone"
Zoot Sims, "Hold Me"
Audio Network, "Together We're Stronger"
APM Music, "Mine To Rage"

EP 207 - "THE WORK PARTY"

The Royal Concept, "Fashion"
Icona Pop, "Get Lost"
STRFKR, "Never Ever"
The Cars, "Touch and Go"
Weezer, "California Kids"
Caveman, "Never Going Back"
Selena Gomez, "Same Old Love"
Broken Bells, "After The Disco"
George Michael, "Freedom! 90"

EP 208 - "MARTY DOBBS"

Sleater-Kinney, "Good Things"
APM Music, "Cultural Charge"
APM Music, "Singing Heart"
Grateful Dead, "Shakedown Street"
Chantele, "Dangerous Art"
Cecare Rosini, "Drivin To The Sun"
The Velvet Underground, "I'll Be Your Mirror"

EP 209 - "HOUSESITTING"

Twenty One Pilots, "Tear In My Heart"
The Shins, "Name For You"
Eels, "Love Of The Loveless"

EP 210 - "LIBERTY DOWN"

Firstcom Music, "See The Future"
Spoon, "Let Me Be Mine"
Firstcom Music, "We Have Tomorrow"
Fiona Apple, "Werewolf"

EP 211 - "THE LONG D"

Fever The Ghost, "Calico"
Judy Kuhn, "A Heart Full of Love" (From Les Miserables)
Los Lobos, "Don't Worry Baby"
Robert DeLong, "Selliin' U Somethin"
Wiley, "Boom Blast"
Stanley Turretine, "Let's Groove"
Bobby Bond, "Your Own Precious Way"
The Bird and the Bee, "Again & Again"

EP 212 - "BACK IN TOWN"

JD McPherson, "Head Over Heels"
Brighton, MA, "Bet You Never Thought"
Broncho, "Class Historian"
Donora, "I Might Have A Worry"
Crusoe, "Wild Ones"
Camper Van Beethoven, "One Of These Days"
Kurt Vile, "Feel My Pain"
Beck, "True Love Will Find You In The End"
SEASON THREE
Love will return for a third season! Release date TBA 2018