NOBODIES (TV Land)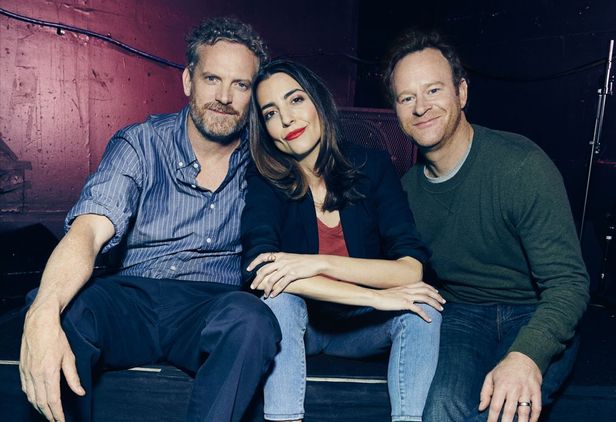 The series stars Hugh Davidson, Larry Dorf and Rachel Ramras as three lesser known comedians who are trying to land their famous friend a feature film script in the hopes of helping their own career trajectories. Michael McDonald will serve as executive producer and showrunner, with Melissa McCarthy and Ben Falcone executive producing through their company On The Day. Falcone also directed the pilot, with Jason Bateman, Maya Rudolph, Jim Rash and Nat Faxon guest starring. JAX Media's Tony Hernandez will executive produce for TV Land.


Season two in production now!
---
Music Supervisors: Thomas Golubić, Michelle Johnson
Music Coordinator: Garrett McElver, Yvette Metoyer
Producers: Melissa McCarthy, Ben Falcone, Hugh Davidson, Larry Dorf, Rachel Ramras, Michael McDonald
Composer: Adam Dorn
Music Editor: Bruno Roussel
Studio: JAX Media
Network: TV Land (Season 1), Paramount Network (Season 2)


Season One - Airdates: March 29th, 2017 - June 21st, 2017
Season Two - TBD

COMPLETE LIST OF MUSIC
SEASON ONE
101 - " MR. FIRST LADY"

Scott Hanson, "Terrified"
​Bronx River Parkway, "Me Resbalon"


102 - "THE RAT, THE CHEESE, AND THE TRAP"

Captain Funk, "Talk Too Much"
Mayer Hawthorne, "Cosmic Love"
The Burning Effigies, "Don't Kill The Mood"


103 - "SEEING SOMEONE"

"Florida's Coast"
Aidan Knight, "What Light (Never Goes Dim)"


104 - "CALL MY AGENT"

PVD, "Motown"
​Audio Network, "Sunset Boulevard"


105 - "NOT THE EMMYS"

Jamie Prado, "Pedestrian"
Jamie Prado, "Sax Machine"
ESG, "My Love For You"
Divalola, "Wallflower"
Whitney, "Follow"


106 - "TOO MUCH OF A GOOD THING"

Norman Kelsey, "On The Rebound"
Norman Kelsey, "Everything My Heart Desires"
Manhattan Production Music, "Society Party"
​Chicago Music, "Uptown Club"

107 - "HEAVY HEART, HEAVY HANDS"

Zemmy, "Like Drowning"
Sofia J, "You Gotta Know Me"
Givers, "Up, Up, Up"

108 - "THE GILDED CAGE"

Extreme Music, "Show Em Who I Am"
Elastic Bond, "Hide and Seek"
Folly & Hunter, "Lose That Light"
Houses, "Soak It Up"
West One Music, "Latin Lovers"
​Al Caiola, "Expresso"


109 - "DEVIL IN A RED DRESS"

Boy & Bear, "Just Dumb"
Lemon Sun, "Answers AML"
Street Joy, "Grow a Garden"

110 - "THE PLEDGE"

"Asi es mi Tierra Caliente"
Audio Network, "Falling Way Down In Love"
First Aid Kit, "My Silver Lining"



111 - "PAUL'S MUSE"

Airs June 14th, 2017 on TV Land at 10pm

112 - "BRING OUT THE CHAMPAGNE"

Dave "Baby" Cortez, "The Happy Organ"
Mocky, "Whistlin'"
"Anyone For Peanuts"