SNEAKY PETE (AMAZON)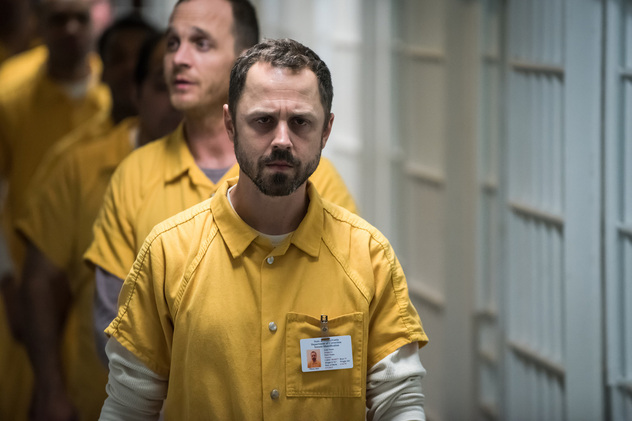 The Amazon Prime original series is about a 30-something con man who assumes the identity of his cellmate, Pete, after leaving prison, hiding from his debtors while working for his new family's bail bond business.
Giovanni Ribisi stars as the con man, with Marin Ireland, Margo Martindale, Peter Gerety, Libe Barer and Shane McRae co-starring. Horrible Bosses helmer Seth Gordon directed the pilot, which was written by David Shore. The series is co-created and co-executive produced by Bryan Cranston.
Click here to view the trailer for season one!
---
Music Supervisor: Thomas Golubić
Music Coordinators: Yvette Metoyer, Garrett McElver, Michelle Johnson
Producers: Graham Yost, James Degus, Seth Gordon, Bryan Cranston, David Shore, Cindy Kerber
Composers: Nathan Barr, Stephen Lukach
Music Editor: Michael T. Ryan
Studio: Sony Pictures Television
Network: Amazon

Season One - Airdate: January 13th, 2017 (All Episodes)


SNEAKY PETE MAIN TITLE THEME

---
COMPLETE LIST OF SONGS IN SNEAKY PETE
SEASON ONE
EP 100 - "PILOT"

The Eels, "Fresh Blood"
Chuck Hall Band, "Skank A Dank"
Taake, "September Omsider"
Ratatat, "Cream On Chrome"
Chris Welch, "Martini Lounge"
Tom Grant, "Beauty Mark"
Exmagician, "Kiss Your Wealth Goodbye"

EP 101 - "SAFE"

Creedance Clearwater Revival, "Keep On Chooglin"
APM Music, "Seren People"
The James Hunter Six, "Chicken Switch"
Canned Heat, "Rollin & Tumblin"
Jacuzzi Boys, "Double Vision"
APM Music, "Acredite Se Quiser"
The Strikers, "Body Music"
Andrew Watt, "Make Your Bones"

EP 102 - "MR. SUCCESS"

The Screaming Eagles, "Rock N Roll Soul"
Beat Chamber Records, "Dos Ociones"
Extreme Music, "Opulent Bloodstain"
Nicky Blitz, "Hawk"
Metronomy, "The Look"

EP 103 - "THE FURY"

White Denim, "Mirrored In Reverse"
Clarence Murray, "Let's Get On With It"
The Vibes, "Hit N Run"
Robert Parker, "Shakin' Things Up"
Nick Lucas, "Tip Toe Through The Tulips"

EP 104 - "SAM"

Opus 1 Music, "Lo Spensierato (alt version)"
Firstcom Music, "Happy Waltz"
Dylan LeBlanc, "Easy Way Out"
"Happy Birthday"
JD McPherson, "Signs & Signifiers"

EP 105 - "COYOTE IS ALWAYS HUNGRY"

"Mashantucket Pequot" (Native American man sings to himself)
I Roy, "Tiddle Le Bop"
Bill Gordon Trio, "Let's Go For A Ride"
Roseau, "Hot Box"
Coobee Coo, "The Things Above"
DWJ, "Throw Your Cash Up"
Liz Vice, "Empty Me Out"
Kevin Morby, "I Have Been To The Mountain"

EP 106 - "LIEUTENANT BERNHARDT"

Bang Data, "Bailazo"
Owiny Sigoma Band, "Harpoon Land"
Sarazino, "El Fugitivo"
Ethan Burns, "Homeward"
Two Another, "Shouldn't Have Done That"
The Lenny Mack Band, "You're So Good For Me"
Eddy Arnold, "Make The World Go Away"

EP 107 - "THE ROLL OVER"

The Lenny Mack Band, "You're So Good For Me"
Cobo, "Baby Blues"
Earthy Babes, "We FEll Hard"
DeWolfe Music "Do My Stuff"
Marvin Etzioni, "Grapes of Wrath"
Pny Boy, "Nothing's Gonna Save You"
5 Alarm Music, "Cartoon Caccophony"
APM Music, "Vagabond"
Deap Vally, "Royal Jelly"

EP 108 - "THE TURN"

5 Alarm Music, "Cartoon Caccophony"
Lawrence, "Misty Morning
Jim George Band, "Big Joe"
Breakestra, "Take My Time"
Caveman, "Easy Water"

EP 109 - "THE LONGEST DAY"

Darondo, "Qualified"
"Mashantucket Pequot" (visual vocal performance"
Gospel Machine, "That Ring"
Ann Peebles, "Can't Stand The Rain"
Beck, "Blue Moon"
The Bright Light Social Hour, "Harder Out Here"