VARSITY BLUES (1999)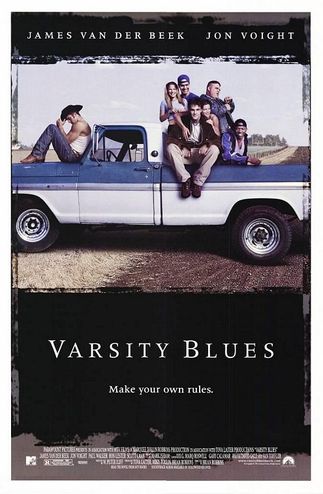 In small-town Texas, high school football is a religion. The head coach is deified, as long as the team is winning and 17-year-old schoolboys carry the hopes of an entire community onto the gridiron every Friday night. In his 35th year as head coach, Bud Kilmer (Jon Voight) is trying to lead his West Canaan Coyotes to their 23rd division title. When star quarterback Lance Harbor (Paul Walker) suffers an injury, the Coyotes are forced to regroup under the questionable leadership of John Moxon (James Van Der Beek), a second-string quarterback with a slightly irreverent approach to the game. "Varsity Blues" explores our obsession with sports and how teenage athletes respond to the extraordinary pressures places on them.
Featured songs include: Green Day "Nice Guys Finish Last", Foo Fighters "My Hero", Fastball "Are You Ready for the Fallout?", Van Halen "Hot For Teacher", AC/DC "Thunderstruck", Monster Magnet "Kick Out The Jams", Stevie Ray Vaughn "Texas Flood", The Reverend Horton Heat "Pride of San Jacinto", Aaliyah "If Your Girl Only Knew", Bobby Bare Jr. "You Blew Me Off", Tex Ritter "Wayward Wind", Loudmouth "Fly", Janus Stark "Every Little Thing Counts", Third Eye Blind "Horror Show", Collective Soul "Run", among others.
Music Coordinator - Thomas Golubić
Original score by Mark Isham
Soundtrack Available on Hollywood Records
-
Purchase Varsity Blues Soundtrack at Amazon.com
---