HALT AND CATCH FIRE (AMC)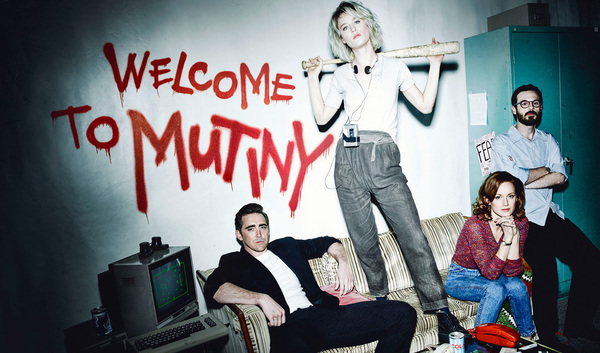 Set in the early 1980s, Halt & Catch Fire dramatizes the personal computing boom through the eyes of a visionary, an engineer and a prodigy whose innovations directly confront the corporate behemoths of the time. Their personal and professional partnership will be challenged by greed and ego while charting the changing culture in Texas' Silicon Prairie. From AMC Studios, Halt & Catch Fire is created by Chris Cantwell and Chris Rodgers. Mark Johnson ("Breaking Bad," Diner, Rain Man) and Melissa Bernstein ("Breaking Bad") from Gran Via Productions serve as executive producers, with showrunner Jonathan Lisco.
Take a look at the series: season one
Take a look at the series: season two
Take a look at the series: season three
---
Music Supervisors:

Thomas Golubić, Yvette Metoyer

Music Coordinators:

Michelle Johnson, Garrett McElver

Producers:

Christopher Cantwell, Christopher C. Rogers, Jonathan Lisco, Jeff Freilich, Melissa Bernstein, Mark Johnson

Composer:

Paul Haslinger

Music Editor:

Jason Tregoe Newman, JTN Music

Studio:

AMC Studios

Network:

AMC

Season One

- Airdates: June 1st, 2014 - August 3rd, 2014

Season Two

- Airdates: May 31, 2015 - August 2nd, 2015

Season Three

- Airdates: August 21st, 2016 - October 11th, 2016

Season Four

- Airdates: TBA 2017

Guild of Music Supervisors Awards:Nominated (2017): BEST MUSIC SUPERVISION - TELEVISION DRAMA - Halt And Catch Fire - Season 3 - Music Supervisor: Thomas Golubić and Yvette Metoyer

We were extremely honored that our work on Season 3 of
Halt and Catch Fire
was nominated for
Best Music Supervision In A Television Drama
at the 7th Annual Guild of Music Supervisors Awards! Season 3 of Halt and Catch Fire was co-music supervised by
Thomas Golubić and Yvette Metoyer
. For a complete list of the winners and nominees, check out:
http://gmsawards.com
---
HALT and CATCH FIRE - MAIN TITLES: Trentemøller

The theme song for Halt and Catch Fire was commissioned by SuperMusicVision and created by Danish Electronic Producer Trentemøller.

We teamed up with AMC's Digital Marketing to create

character playlists

for Halt and Catch Fire. We put together playlists based on each of the show's main characters for season one, expanded on those characters and added new ones, as well as some additional location and thematic based playlists for season two. In season three we created a master playlist that helps transition our crew from Dallas to San Francisco. The playlists can be found on

Spotify

and were featured as part of AMC's second-screen experience, Story Sync.

Each playlist can be found on our website here.

---

OFFICIAL SOUNDTRACK

The official Halt and Catch Fire - Original Television Series Soundtrack featuring original score created by composer Paul Haslinger is available to purchase at:

Amazon | iTunes

---

COMPOSER: Paul Haslinger

For more information about Halt and Catch Fire's composer, Paul Haslinger, visit his website at: http://www.haslinger.com/

Check out this interview Paul did with The Hollywood Reporter:

Click To Read

Consequence of Sound also did a great interview with Paul:

Click To Read

---
Before the season 2 premiere, AMC released a sneak peek clip from the premiere episode with a first look at Mutiny. The clip showcases Donna (Bishé) as she weaves through the bustling start-up office which is wired with creativity and invention. Featuring the song "Birds Fly (Whisper To A Scream)" by Icicle Works.
COMPLETE HALT and CATCH FIRE SONG LIST
SEASON ONE
EP 101 - "I/O"

EP 102 - "FUD"

EP 103 - "HIGH PLAINS HARDWARE"

EP 104 - "CLOSE TO THE METAL"

EP 105 - "ADVENTURE"

EP 106 - "LANDFALL"

EP 107 - "GIANT"

EP 108 - "CHALLENGE"

EP 109 - "UP HELLY AA"

EP 110 - "1984"
SEASON TWO
EP 201 - "S.E.T.I."

EP 202 - "RUN TIME"

EP 203 - "THE WAY IN"

EP 204 - "PLAY WITH FRIENDS"

EP 205 - "EXTRACT AND DEFEND"

EP 206 - "10BROAD36"

EP 207 - "WORKING FOR THE CLAMPDOWN"

EP 208 - "LIMBO"

EP 209 - "KALI"

EP 210 - "HEAVEN IS A PLACE"

SEASON THREE
EP 301 - "VALLEY OF THE HEART'S DELIGHT"

EP 302 - "ONE WAY OR ANOTHER"

EP 303 - "FLIPPING THE SWITCH"

EP 304 - "RULES OF HONORABLE PLAY"

EP 305 - "YERBA BUENA"

EP 306 - "AND SHE WAS"

Tom Waits, "Jockey Full of Bourbon" (

iTunes

)

The Outlets, "No Fun" (

iTunes

)

Dan McCafferty, "Bad Women"

DeWolfe Music, "Anarchy"

Gaetano Donizetti, "Quanto E Bella"

39 Clocks, "Shake The Hippie" (

iTunes

)

Tony Koklin, "Struttin'" (

iTunes

)

Extreme Music, "Ever Green"

DeWolfe Music, "Champagne and Cocktails"

Peter Gabriel, "Mercy Street" (

iTunes

)

EP 307 - "THE THRESHOLD"

Crippled Pilgrims, "People Going Nowhere" (

iTunes

)

Gerry Beaudoin Trio, "Mother's Day Waltz" (

iTunes

)

The Outlets, "Wait" (

iTunes

)

Aaron Madden, "Sound Salvation"

The Housemartins, "Happy Hour" (

iTunes

)

Choir Invisible, "Quiet Place" (

iTunes

)

Stained Rug Theory, "Je Ne Sais Quoi" (

iTunes

)

The Jetzons, "Real Time" (

iTunes

)

The Jetzons, "She Has Won" (

iTunes

)

EP 308 - "YOU ARE NOT SAFE"

"Midnight Special" (whistled by Gordon as he approaches Joe's)
Bel Mondos, "Blue Dream"
DeWolfe Music, "In The Running"
Firstcom Music, "Stadium"

EP 309 - "NIM"

Chicago Music, "Let Your Love Show Through"

Poison Idea, "Plastic Bomb" (

iTunes

)

David Benoit, "Along Love's Highway" (

iTunes

)

Scott Hanson, "A Million Miles Apart"

The Pixies, "Velouria" (

iTunes

)

Shonen Knife, "Twist Barbie" (

iTunes

)

Operators, "Cold Light" (

iTunes

)

EP 310 - "NEXT"
SEASON FOUR
Halt and Catch Fire will return for a fourth and final season!
Release Date TBA 2017